LILEE
Lilee is our newest girl!  Her page is currently under construction BUT we can tell you about her for now.
She is the only girl we keep inside on a permanent basis, only because this is what she is accustomed to since being a little pup.  We adopted her from a family who couldn't keep her any longer.  This family provided the best of the best training and upbringing for Lilee.   Today, she is absolutely the most intelligent and well trained Akita we have ever known.   She is sharp as a tack and strangely docile.  She loves the cats.  When let loose on our 40 acres, she runs through the flock of chickens and never has become aggressive with them.  She likes to see them dart our of the way as if they were toys.  She greets them with a sniff and moves on.  Ok, so we don't let this happen often since she is after all and Akita.  lol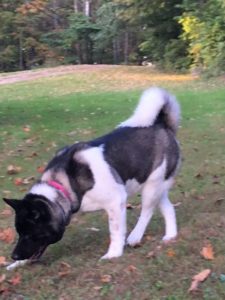 She is also very attached to her humans and when a stranger approaches the front door , all the Akita comes to the forefront in a epic show of dominance.  Not until we give her a command, " quiet" does she stand down and accept the new company/visitor.
Lilee is our MOLE hunter.  She can smell them in the ground from far away and laser in on their exact location where she immediately begins to dig a crater fast and furious!  Mole population is down but our land is looking like the surface of the moon with all the craters.  Still, we love to see her in action.
Her conformation is wonderful.  She is about 95 pounds and she has been bred and due in October 2018.  Very excited!