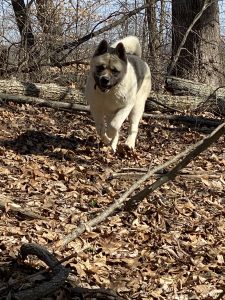 What can we say? CoCo is our new princes, Regal as they come! She is highly decorated with champion bloodlines. These lines start with her mom and dad and go at least 3 generations back. Her conformation is superb to say the least.
CoCo is our energizer bunny of the family. She can run and leap like a gazelle. It is a wonder to behold. But let's talk about her demeanor.
She is a gentle giant. When it's her turn to run the landscape, she always comes back every few minutes to make sure we're still there  and check in.  It's simply breath taking to see her beauty (pure muscle) maneuvering through the 40 acres of forest at the back of our property.
She is also our alarm system . She has the hearing ability of a BAT and sounds off at anything strange that approaches.
In all, our girl CoCo is a magnificent specimen with a wonderful demeanor.