*NEWS FLASH*
Christmas Pups

CoCo has two pups left! 
Visit out Puppies Page for more!
Two females remain!

  Check out the PUPPIES page!


ONE male pups remains!

Visit our  Puppies Page  for more info!!! 
---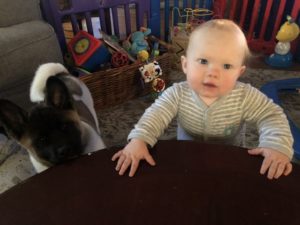 One of our pups in her new home playing with her new master! Cuteness!
  Check out the PUPPIES page!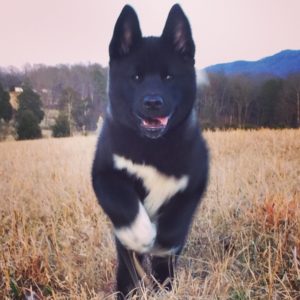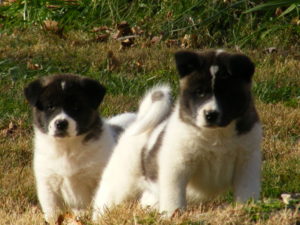 Thanks for stopping by RH Akitas, a place where many new akita owners have found their perfect Akita pup!
We specialize in a relationship-centered approach to connecting the perfect puppy with a loving family.
Each of our puppies spends the first months of its life in the experienced care of RH Akitas owners, Eli and Rich.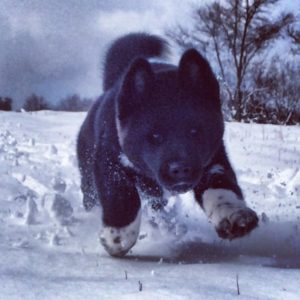 If you're new here, please take a look at the pages.  We have downsized quite a bit since we had to relocate.  We are quite small now but we look forward to the near future as we rebuild.  Our past has been proven and our 'kids' produced some incredible pups!
Here you will find loads of information about our Akitas and the pups they have produced. http://rhakitas.com/photos-of-past-pups/
Have a question? Please feel free to Contact Us.
AKITA
Customers Review 
We just love the puppy. He is everything I imagined. I can't thank you enough!  You helped out with one of the hardest moments in my life.  I now know I can make it after our older Akita passes.  We have named the little guy, Eli.  God Bless and safe travels to you.  12/23/2019
---
We got Katie in June and she is absolutely wonderful. She does very well with my other 4 mixed breed dogs and does very well with other people when walked. Eli was wonderful and helpful with all his advice and the buying process could not have been easier. She is extremely happy has a great disposition and is a lot of fun.
   Denise
---
Happy Akita owner in Northern Minnesota
I purchased a female Akita who is now going on 9 weeks. She is a delightful and outgoing puppy. She is bold, beautiful and big boned. She is nearly potty trained and I received her on Tuesday of this week. Everything Eli told me about this puppy is true and she is more than I could have asked for. Eli is honest and trustworthy in all his business dealings. I would not hesitate to recommend Eli as a top notch Akita breeder.
…  Marsha
---
Wonderful Breeder
We got our Akita puppy (Ella) a year ago and she brings joy to our lives everyday. Eli is a wonderful breeder and very helpful. You can truly tell he loves all his dogs. We will definitely use this breeder in the future.
    Lisa
---
RH Akitas has Top notch puppies….
Our new puppy could be the "cover girl" for an Akita book! She is big boned, well muscled, beautifully marked, extremely alert, and has a wonderful outgoing personality. She flew cross country all alone at 10 weeks old and when we picked her up in the airport cargo area her tail was wagging and she was happy and excited to meet us. Eli went out of his way to make sure everything went smoothly throughout our purchase process, and I would whole-heartedly recommend him when it's time to purchase your new Akita. We couldn't be happier with our puppy, or with Eli. You could pay a lot more, but I doubt you'd get a better puppy.     Brad
---
Happy!
I think he's happy here! Thanks again for such an amazing pup. We love him so much.  -Erika
---
He is Perfect
Meko is amazing and we love him so much.  He is a perfect puppy for the family.  Thank you Eli!     Meloni
---
He is working out Great!!
Thank you for an amazing puppy!       DeGain
---
THANKYOU!
Our two Akitas are 5 yrs old now. Shianne is a true hunter and Yukon is a big teddy bear. We love them so much! Thank you RH Akitas!    …Reinhart
---
Thank you again for Lily!
She is just a joy.  She was a little nervous when got home, but we all played with her and she ended up taking a big nap in the middle of the back yard.  Although we live in a big neighborhood, it has quite the wild life.  We have rabbits and ducks that come to visit every evening.  As soon as Lily fell asleep, they all came out to see who the new visitor was.  I'm guessing Lily won't let them hang around too much longer:).   This morning she was full of energy and feels quite comfortable.  She has even scratched at the door twice and went right out to the bathroom.  
She is Amazing!
Kadey is five now. Her name was Pax. She's pretty amazing and gets tons of attention everywhere she goes. Thanks to you we have a great family member.xoxo Mary and Rick 
He is Such A GREAT Buddy
 spotted Calvin on there  (website) and it made my day. Calvin is doing great by the way.  He will be 9 this year.  I can't believe it.  He is such a great buddy to me.   Hope all is well! …Jake
---
You Guys are the Best
Thank you for helping us bring joy back into our lives!  You're home is beautiful and your Akitas are given care beyond the norm.  You guys are the best akita breeders out there and we are glad we found you!   …. Linda, Corpus Christi
---
All is well! This is Kasey doing a trick. She is five now. Her name was Pax. She's pretty amazing and gets tons of attention everywhere she goes. Thanks to you we have a great family member.xoxo Mary and Rick kruko
---
He is the BEST!
We love our new pup!  He is the best pup we've ever had and he has been our bright and shining star! Thank you!   D. Collier
---
..a blessing!
You guys have been a blessing to us! We love our new baby!
---
Wonderful dog!
Thank you for Zuko. He is such a wonderful dog.  We couldn't ask for a better addition to our family.  …we want a female!
---
WWe are Akita breeder that have Akita Pups for sale Michigan, Akita pups for sale Kentucky, Akita pups for sale Tennessee, Akita pups for sale  Pennsylvania, Akita pups for sale Illinois, Akita Pups for sale Colorado, Akita pups for sale California, AKita pups for sale  New York, Akita pups for sale  Georgia, Akita pups for sale  Montana, Wyoming, Wisconsin, Minnesota, North Dakota, South Dakota, Iowa and all states in the United Statesst