OUR GUARANTEE
Seller guarantees the following:
This puppy is guaranteed for a period of 3 days against viral diseases such as: Parvovirus, Distemper, Coronavirus, Parainfluenza, Adenovirus II, and Leptospirosis. Please insure you do not expose your puppy to dog parks or to households that have had a sick dogs/cats in the past year. These viruses can be shed from ill dogs into their owner's home. Some viruses such as Parvo can live 6 months to a year inside the owner's home and can be present on clothing, furniture and shoes! So, until your puppy's immune system is well protected by a full series of vaccines – 16 weeks – please keep notice of where you take your puppy. Please…insure your puppy is properly vaccinated into his/her adulthood at all times.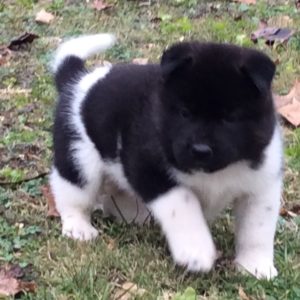 This puppy is also guaranteed to pass OFA evaluation at the age of 24 months with an Excellent, Good, or a Fair rating. Failure to get an OFA evaluation before 24 months nullifies the guarantee. If your dog fails to achieve an OFA rating of Fair or better, simply mail us a copy of the OFA report and documentation from your vet stating that the dog has been sterilized and we will give you a puppy when one becomes available as long as RH Akitas is still doing business. We will not replace any dog that is found to have hip problems due to environmental issues or poor nutrition.
The puppy is free of PRA (Progressive Retinal Atrophy) for a period of 2 years. A CERF exam should be administered each year.
Under no circumstances will refunds be made in lieu of a replacement. If the buyer rejects a replacement puppy, all sales become final.   In the event that payment arrangements have been made for selected days or a specific due date – and those arrangements are not kept and we have not received a response from the buyer– the puppy being held will be placed back on the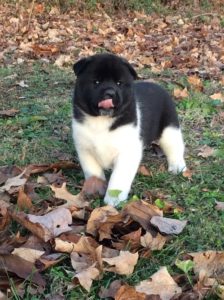 market and any deposits by the buyer will be forfeited.  Attempts by us to contact the buyer by email or phone will first take place as we know life can get really busy. However, if RH Akitas is not successful in contacting the buyer – all arrangements/agreements between the buyer and Rodriguez Hill Akitas are voided. We urge you to reply to our calls and emails in a timely manner so lines of communication will always be present. Should you find yourself in a situation that will prevent us from contacting you or you reaching us for a period of time(more than 3 weeks) – we suggest you inform us so that we can make arrangements for you and your akita pup.
YOUR DEPOSIT IS TRANSFERABLE (if applicable) to another puppy or future litter if you wish. You are not obligated to stay on the aforementioned litter for a pup. Should you see a pup that is available that is born prior to the litter you are waiting for….you are welcome to request we transfer your deposit to the new puppy/ litter.
PRIORITY CHOICE (if applicable)
Buyer that has placed a deposit for a puppy from a future litter will be contacted up to five days after the litter is born to begin the selection process for their akita puppy. Buyer will have 48 hours to make their choice. Final payment for this puppy will be due 24-48 hours after the puppy is selected. Should a litter/puppy not be produced – Priority Choice customer shall have their deposit transferred to another litter on the ground and or given 1st choice on the next litter available. In the rare event that RH Akitas is not able to supply an akita puppy for the Buyer a Refund of the "Priority Choice" deposit will gladly be refunded within  2-4 weeks after request has been received. Priority Choice refunds are not given for any reason other than a puppy not being available. We do not give refunds if a certain color, pattern, size, or any other physical attribute is not present on puppies in the litter. In all – we do all we can to make the buyer completely happy and proud owners of a high quality AKC Akita puppy.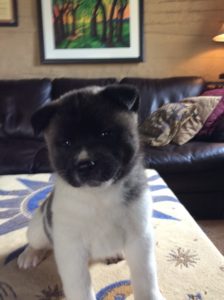 Buyer agrees to the following:
Buyer agrees to read the complimentary Akita information that is provided on our website blog.
Buyer agrees he/she has read and accepts the "About Us" on seller's website – www.rhakitas.com
Buyer agrees to provide complete veterinary care for the dog.
Buyer agrees to maintain dog on a monthly heartworm preventative throughout the dog's life.
Buyer agrees to feed a premium commercial dog food to insure proper growth. (Your puppy has been raised on Diamond Puppy/Large Breed and IAMs Puppy food mix.
Buyer agrees to have dog in a house or kennel area with proper shelter available at all times. Never let the dog roam free unsupervised.
Buyer agrees this dog will not be over exercised or constantly go up large flights of stairs before the age of 1 years. (over 2 stories of apartment type stairs) The puppy has soft bones and this could cause irregular growth of the hips and elbows.
Buyer agrees to not breed dog until proper health checks have been administered.
Buyer agrees to attempt to email a picture of the pup every year if possible.(not required but we love photos!)
Buyer agrees to contact seller in the event that they decide to sell their dog. Seller reserves the right of first refusal at no more than the original purchase price.
Buyer agrees to assume all responsibility for dog once ownership has been transferred. (time of pick up)
Seller cannot be held responsible for any legal ramifications concerning this dog.
Buyer agrees to pay all of Seller's court costs and legal fees incurred while enforcing this contract.
***********************************************************************************************Taking Delivery of your new PUP!
Your pup is still young and has a small bladder. Also, he/she is still developing and experiencing new situations and experiences. Traveling for your pup is a new experience and whether by car or plane – the motion of travel is a new experience that sometimes causes brief upset stomach, diarrhea due to stress and nervousness. All symptoms should dissipate within 24 hours or less, diarrhea taking the longest.
Clean-up. Extra paper towels or infant wipes work great in cleaning up accidents from surfaces in the car or messes on your pup.
Your puppy needs to be constantly consoled and at times (although not the safest way to have your pup in the car) carried in your arms during your trip. Make frequent stops to let your pup walk the grass. DO NOT LET YOUR PUPPY GAIN EXPOSURE TO DOG FESES. Although your pup has his/her first puppy shot – there have been instances that parvo was still contracted by exposure to enough virus particles usually by infected dog stools. Keep watch over your pup during walks. Your puppy is susceptible to canine diseases until all vaccinations are given.
Your puppy will miss his mom and litter mates the first few nights. The pup may howl and cry for attention during the night. This is normal and just a way it goes in getting a new pup. Some are more vocal than others.
Feeding – Your puppy has been weaned on Diamond Natural Puppy Food Large Breed. The pup's stomach is sensitive at this point. Loose stool is common but not diarrhea. Keep close contact with your vet and be sure to get your pup looked at within 48 hours of having him at your new home.
Enjoy.