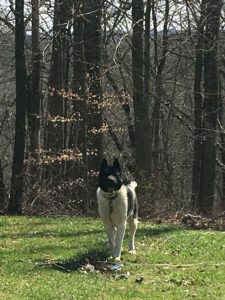 Shadow is our proud male Akita. Prestigious Majestic and Handsome, Shadow possesses a disposition second to none.
Although a larger 100 pound Akita  at 1.5 years and able to leap tall buildings in a single bound – Shadow is docile with his owners and visitors. He is a gentle giant with the ability to protect his family without pause.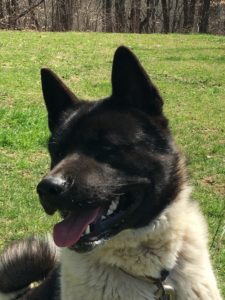 His markings are incredibly well proportioned. His colors are true white and solid black. His size continues to increase and he is awesome in every way!
Shadow lives to please and is allowed to have free range of the property every now and then so he can let loose and do what Akitas like to do – run – leap – and hunt.
Shadow trains quite well and quickly and we've had a wonderful time going through his training process with him. Shadow is great with children and people in general as he has been exposed to them since he was a young pup.
Shadow does not tolerate other male canine species his own size – typical of an akita. He is our Alpha Akita Male and we are totally ecstatic to have him with us and part of our family.  (Thank you, Melissa!)