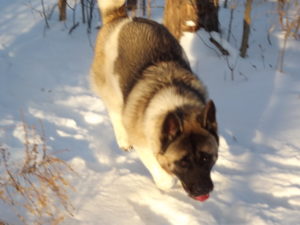 We welcome Baja to our breeding program beginning 2018.   We are so excited to have our girl with us.  Baja if full of life and a ball of energy.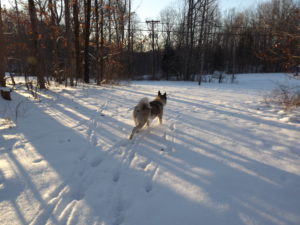 Her conformation is solid and her  beauty simply stunning.  She loves to be let loose on our  40 acres of forest.  It is amazing how agile and athletic she is when she runs the forest.  She is our keeper of  the watch as she has displayed a keen sense of her surroundings and far away sounds that get her attention.
We can always count on Baja (nicknamed Bot-Bot) to alert the rest of our kids and her humans when something is amiss outside.  Within a few seconds, she can have the entire pack at RH Akitas at full alert which one can hear for miles through the woods and beyond!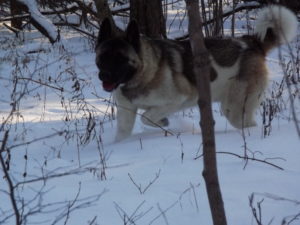 She brings us gifts of this and that from the forest during her run of the woods time.   She adores her humans and finds so much joy in pleasing us as she is given her various commands.  Her markings are beautiful and her demeanor is second to none.
We look forward to our girl producing some fine puppies with our boy Shadow in 2018.